The Perfect Solution For
Municipal Ordinance Hosting
& Management
The civiclinQ Code Hosting platform provides local government with the ability to access, upload, customize, and update its adopted policies, plans, and regulations in a safe, stable, secure and user-friendly environment. Our innovative self-publishing software platform facilitates access, administration, enforcement, and ensures operational transparency to the public, allowing local governments to focus on the things that matter the most.
Many local government administrators, clerks, recorders, and secretaries feel overwhelmed and overworked because they are responsible for collecting, organizing, and communicating all of the plans, budgets, policies, and regulations. The civiclinQ hosting platform is easy-to-use municipal code software that helps the organization make its public information public. It increases the ability of residents, business owners, and staff to find the most current information on their own.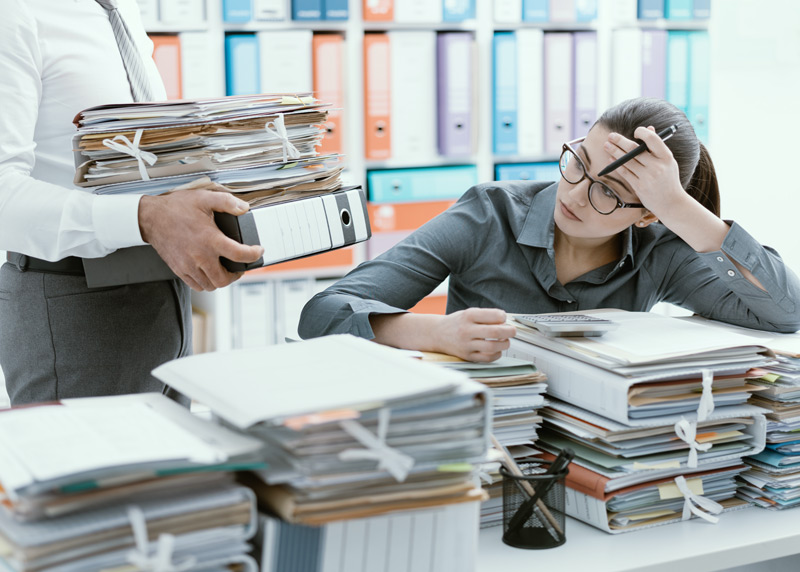 No more dealing with code hosting providers that over promise but underdeliver. civiclinQ is half the cost of other municipal code hosting software and offers the upload of an unlimited number of books in your library, unlimited changes (i.e. done by you), improved customization features (i.e. table formatting, images and video files) and search functionality. Make the switch today to experience a more user-friendly code hosting experience. 
Your City Clerk Deserves Better
Download our FREE PDF, 5 Simple Steps to a Better Run City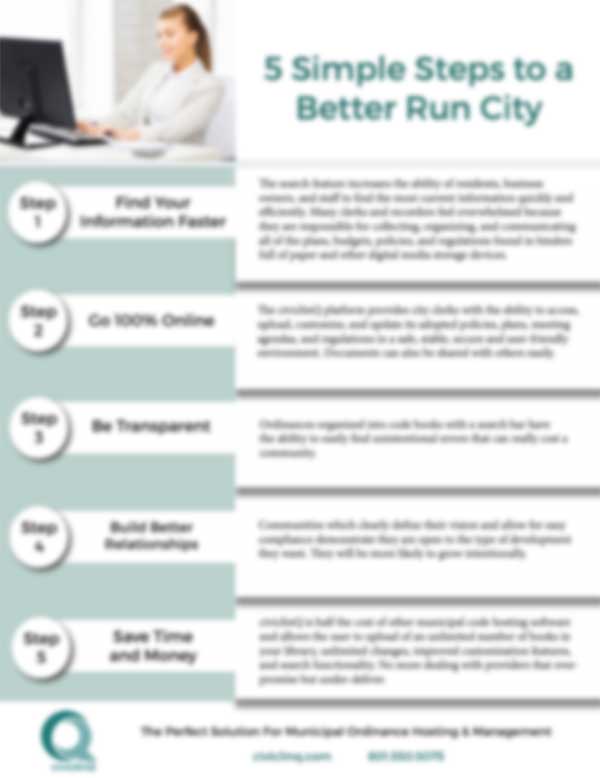 Why civiclinQ Municipal Code Hosting?
Code Hosting by civiclinQ is a self-publishing software platform that is designed to provide an innovative, agile, and cost-effect method for communities to publish and maintain their municipal policies, plans, and regulations online.
Our motivation and philosophy behind Code Hosting is simple – to provide an affordable, safe, stable, secure, and user-friendly environment that facilitates access, administration, enforcement, operational transparency, and paperless interactions for communities of ALL sizes.
Code Hosting by civiclinQ allows communities to quickly and easily create a beautiful, functional, ADA compliant, and mobile-friendly website where their municipal policies, plans, and regulations can be uploaded, maintained, and updated as frequently as needed.
Unlike our competitors, communities can create and host an unlimited number of books1, as well as perform unlimited content changes for no additional fees.  Communities can implement Code Hosting on a monthly or annual subscription basis and can choose to cancel their subscription any time – without penalty.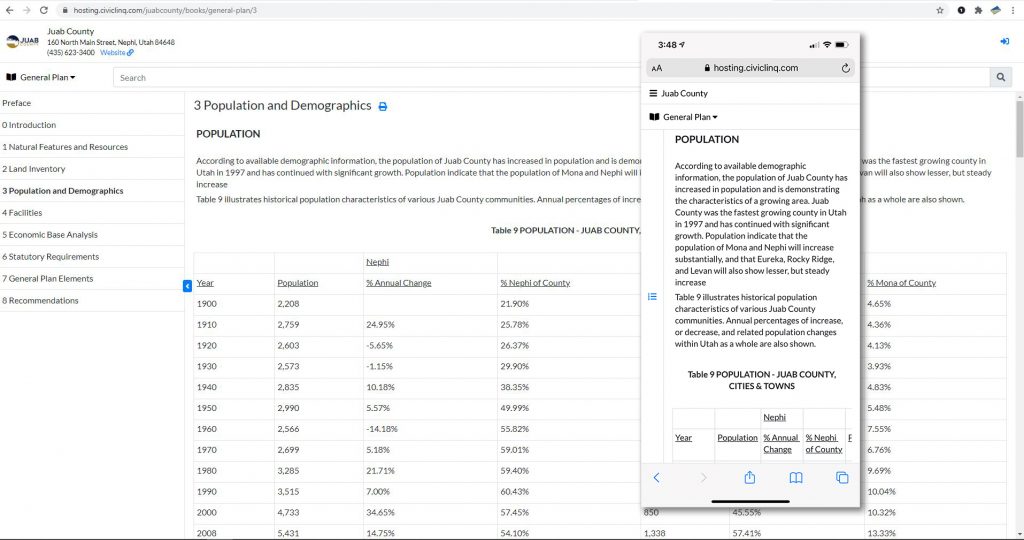 150 GB of storage space comes standard with each subscription.  Additional storage space can be purchased on an as-needed basis.
Code Hosting by civiclinQ was developed in-house using Google's Cloud Platform technology.  We continually support our platform in-house with our team of local experts comprised of a dedicated software developer, website/applications developer, team of certified planners, and more.

Code Hosting by civiclinQ is supported by Rural Community Consultants (RCC).  RCC is a wholly owned subsidiary of Jones & DeMille Engineering, Inc. (JDE). Together RCC and JDE have over 30+ years of experience serving local governments in Utah and beyond.
RCC offers in-depth planning services and support and specializes in strategic, financial, and land use planning for local governments as well as providing innovative solutions for difficult issues unique to the rural west.
As one of the top-ranked firms in the Intermountain Region, JDE has established themselves as the go-to source for infrastructure projects and needs. In 2018, JDE received the Premier Award for Client Satisfaction demonstrating our goal of creating long-lasting partnerships and relationships and employing a high standard of excellence on each and every project.

RCC prides itself in doing busines the 'rural way', meaning we believe in hard work, practical strategies, respecting and improving the communities we partner with.  Our unique qualifications which afford us the ability to work with all levels of government also allow us to seamlessly integrate within a community's existing staff to facilitate and expedite the implementation of new software solutions when time, lack of staff, or experience with a specific issue is needed.
For Code Hosting, our Assisted Implementation typically includes:
Initial setup of books – including navigation (titles/chapters/sections);
Initial data import into books – including basic formatting and punctuation checks; and
Initial publication of books – after review/approval by client.
Everything we do is concise, illustrative, and actionable.  We believe that policies, plans, and regulations are living, breathing documents that should be straight-forward, easy to read/understand, structured to allow intuitive navigation, and free from any unnecessary technical jargon that does not contribute directly to administration, implementation, or enforcement.
Codification, or the action or process by which laws or rules are arranged according to a system or plan, can be added to our Assisted Implementation services to ensure your community starts off its Code Hosting experience with a solid foundation.  Codification typically includes:
Thorough review of all ordinances – determining their conformance with State law;
Organization of ordinances into applicable books – including titles/chapters/sections;
Indexing/ordinance genealogy – for easy tracking/referencing legislative history;
Editing and proofreading – general formatting, grammar and punctuation checks; and
Recommendations – for charts, illustrations, maps, or other reference materials.
Not a technology guru?  No problem!  We'll update your Code Hosting platform for you!  We are experienced and staffed to accommodate any timeline or request.
We Make the Transition Easy in 3 Easy Steps
Choose the right plan. Reach out with questions!
Integrate/Upload your content into civiclinQ's Municipal Code Hosting platform. We can help!
Search/Update your codes, ordinances, policies, and plans quickly and efficiently.
Code Hosting

$100/month

- or -

$1,100/year

Code Hosting +

$200/month *

- or -

$2,200/year

ADA Compliant + Mobile Friendly Design

Flexible Subscription Terms (Quit Anytime)*

Host Unlimited Number of Books (Public or Private)

50 GB Storage Space (Additional Storage Available if Needed)

Onboarding Support (Administrator Access/1 Back-End Training)

Standard Troubleshooting/Tech Support (Platform Issues Only)

Amend Assist (Ordinance Generator + History Ledgers)

Quarterly Newsletter (Issues to Consider)

Access to Library of Recommended Content (Updated Quarterly)

Annual Audit of Code or Local Official Training

* our Code Hosting+ service requires a 3-year subscription commitment.
...are you already online?
We'll help you switch.
Assisted Implementation

an additional $100/mo for the first two years**
(or $2,500 lump sum)
Initial setup of "Books" - includes navigation (titles / chapters / sections);
Initial data import of your codes into "Books" - basic formatting and punctuation checks; and
Initial publication of "Books" - after review by client.

..never been online?
We'll get you there.
Assisted Implementation with Codification

an additional $200/mo for the first two years**
(or $4,000 lump sum)
Initial setup of "Books" - includes navigation (titles / chapters / sections);
Organization of Ordinances into applicable "Books" - including titles / chapters / sections;
Recommendations - for charts, illustrations, maps, or other reference materials.
** a monthly payment arrangement for optional services also requires a 2-year subscription commitment.
Clients of All Sizes Have Found Success with civiclinQ
CiviclinQ is an easy to use website that has made self-publishing our Municipal Code so much quicker and easier. The customer support has been excellent and very responsive. The search capabilities are quick and precise. We're looking forward to the ordinance generator feature in the near future.
Not Quite Sure civiclinQ is Right For You?
Download our FREE Information Guide